The Richmond Charities' Almshouse Book Club
Published on:
Written by:

Jo Davison
The Almshouse book club was set up following suggestions from residents. Members meet once a month where they discuss and compile a list of possible books that they would like to read the following month. The group also have a discussion about the book they have read in the previous month over a cup of tea. One of the books that was read recently was 'Still Alice' by Lisa Genova. This book created a lively review meeting where most people said they enjoyed the book although they said it was a worrying and close to home subject, as it was about Alzheimer's disease. One member found it badly written and a 'band-wagon' book but they all had plenty to say. Members scored the book between 0-7 out of 10.
Invisible Man by Ralph Ellison is the book that is currently being read by the Almshouse book club. This is Ralph Ellison's first novel. It was published in 1952 when American society was on the cusp of immense change. Invisible Man is the story of a young black man from the South who does not fully understand racism in the world. He encounters many people and situations that slowly force him to face the truth about racism and his own identity.
The book club is open to all Almshouse residents, even those who are unable to attend the meetings. These residents can have a book delivered to them so they are still able to actively participate as they can write a review of the book and send it to the meeting for the other members to read and discuss.
Residents' Christmas Lunch
Published on:
Written by:

Juliet Ames-Lewis
On 14 December 2018 The Richmond Charities hosted lunch for 120 residents, trustees and staff at the Richmond Hill Hotel. A fabulous time was had by all, with fantastic food, service and a wonderful atmosphere. Everyone enjoyed the festive quiz, raffle and excellent cracker jokes!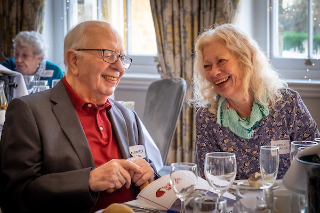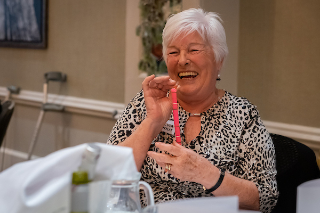 O come all ye faithful – Carol Singing at Michel's Almshouses, The Richmond Charities
Published on:
Written by:

Linda Prendergast and Jo Davison
Almshouse residents, staff, trustees and visitors enjoyed an afternoon of festive music, mulled wine and mince pies on Sunday 9 December at Michel's Almshouses. The choir from St Mary Magdalene's Church, Richmond came to the almshouses to sing carols around the Christmas tree with audience participation! A great time was had by all 60 people attending, which included residents from many of The Richmond Charities' other almshouse estates across Richmond and Twickenham.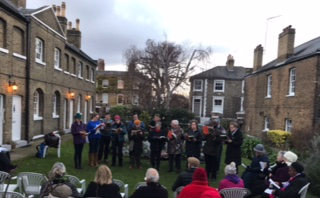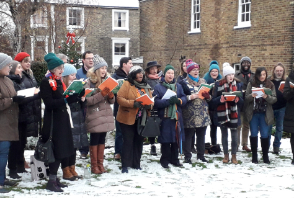 Advent Carols - Sunday, 2nd December, 5pm (Chapel of St Francis)
Published on:
Written by:

Stuart Lee
Join us in the Chapel of St Francis, Hickey's Almshouses on Advent Sunday for Evening Prayer with Advent Carols, music and a seasonal reflection as we begin to prepare for the Mystery of Christmas.
Warm Clothing Collection for the Vineyard Project & Donations for Richmond Foodbank
Published on:
Written by:

Linda Prendergast & Jo Davison
Almshouse residents have always been very generous in supporting the warm clothing collections for the Vineyard project and donations for the Richmond Foodbank and helping people in ned during the cold winter months. Homeless men and women in our borough are in desperate need of warm clothing - hats, gloves, scarves, socks, underwear, jumpers, trousers, coats and jackets are all needed.
The Foodbank is also always in need of donations to help feed the poorest of families and individuals within the borough. They have asked specifically for: UHT milk, fruit juice, packets of mashed potato, breakfast cereal, puddings, tinned fruit veg or meat, tea bags, toothpaste, shower gel, shampoo, ladies hygiene items.
Services on Remembrance Sunday
Published on:
Written by:

Stuart Lee
On Remembrance Sunday, 11 November, we held two moving services in our Chapel at Hickey's Almshouses. The morning service marked the 100th anniversary since the end of World War I and the evening's memorial service was a chance to remember and give thanks for those in our community who have recently died.
Official opening of Manning Place Almshouses
Published on:
Written by:

Valerie Clarke
The official opening of Manning Place took place on 13th September 2018. The weather was very kind to us and the opening was very well attended. The Mayor of Richmond Cllr Ben Khosa performed the "cutting of the ribbon" and welcomed the 12 new residents. The Mayor made a speech and talked about the charity's long history of providing almshouse accommodation and praised the charity for continuing to look for ways in which it can expand and house more residents.
Some residents opened up their new almshouses so that guests could look around and everyone was very impressed with the quality of the new almshouses and the refurbishment that has been undertaken. As the Mayor said, although most almshouses are traditional cottages, what Manning Place shows is what a modern almshouse looks like, complete with aids and adaptations to assist residents as they grow older.
Refreshments were served courtesy of Debbie, Jo and Alison, and a pleasant time was had by all those who attended.
Results of the 2018 Richmond in Bloom competition
Published on:
Written by:

Juliet Ames-Lewis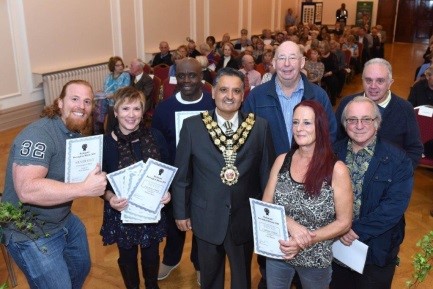 We had some fantastic results in the 2018 Richmond in Bloom competition. Congratulations to Bishop Duppa's, the residents and our gardeners at BD, Stephen Charles, for being the overall winner in the Community Building category. Bishop Duppa's has received a special plaque which will have pride of place on the wall at the almshouses!
In the same category, Michel's Almshouses and Houblon's Almshouses won Gold, and Church Estate and Queen Elizabeth's Almshouses won Silver Gilt.
In the Residential frontage category, Margaret Payler and Jean Newport at Michel's won a Gold award and Joy Sayles at Michel's, Rita Compton and John Coles at Church Estate and Beryl Read at Hickey's won Silver Gilt. A Silver award was won by Michael Brien, Barbara Costanzo, Lisa Blakemore, Betty Johnson and Terri Ekkel at Bishop Duppa's and Michael Hobbs and Richard Yardley at Hickey's. Our Scheme Manager, Linda, attended the prize giving ceremony along with Michael Hobbs, Richard Yardley and John Coles and they collected all the prizes. Congratulations to everyone!
Nordic Walking for Almshouse Residents
Published on:
Written by:

Irene Donovan
I joined the Nordic Walking group at Hickey's in September and was greeted by Rosie, our instructor, who explained why/how it was developed. She explained how when done correctly it improves core strength, posture and balance. This is achieved by walking with head up and shoulders relaxed, straight arm swing with a rolling heel/toe foot action. So much to think about but good for developing both sides of the brain, according to Rosie! The poles when used correctly develop arm strength.
After the second week, remembering head up, shoulders down, rolling feet I knew my posture had improved!! While chatting with others in the group it was clear that people had noticed an improvement in their posture and balance and all felt better for the exercise and being in the fresh air.
We are going to continue and hopefully go for longer walks in Richmond Park. I would highly recommend this form of exercise, even without poles. New friends, laughs and exercise with a lovely tutor, come and give it a try.
New Craft Club started!
Published on:
Written by:

Juliet Ames-Lewis
Residents are running a new craft club on Wednesday mornings in The Green Room at Hickey's – all welcome!
The club runs on Wednesday mornings 10 – Noon.