The Richmond Charities' Shrove Tuesday Pancake morning
Published on:
Written by:

Jo Davison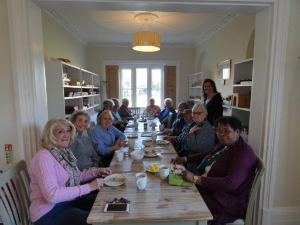 Residents who attended the weekly drop in on Shrove Tuesday enjoyed pancakes. The residents were given a variety of fillings to choose from which included strawberries, bananas, chocolate, maple syrup and of course the traditional lemon and sugar, all of which went down a treat!
O come all ye faithful – Carol Singing at Michel's Almshouses, The Richmond Charities
Published on:
Written by:

Linda Prendergast and Jo Davison
Almshouse residents, staff, trustees and visitors enjoyed an afternoon of festive music, mulled wine and mince pies on Sunday 9 December at Michel's Almshouses. The choir from St Mary Magdalene's Church, Richmond came to the almshouses to sing carols around the Christmas tree with audience participation! A great time was had by all 60 people attending, which included residents from many of The Richmond Charities' other almshouse estates across Richmond and Twickenham.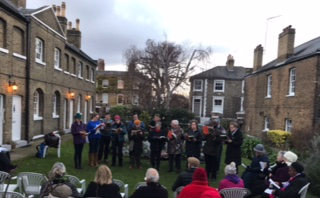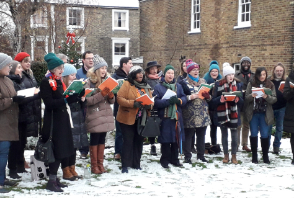 Official opening of Manning Place Almshouses
Published on:
Written by:

Valerie Clarke
The official opening of Manning Place took place on 13th September 2018. The weather was very kind to us and the opening was very well attended. The Mayor of Richmond Cllr Ben Khosa performed the "cutting of the ribbon" and welcomed the 12 new residents. The Mayor made a speech and talked about the charity's long history of providing almshouse accommodation and praised the charity for continuing to look for ways in which it can expand and house more residents.
Some residents opened up their new almshouses so that guests could look around and everyone was very impressed with the quality of the new almshouses and the refurbishment that has been undertaken. As the Mayor said, although most almshouses are traditional cottages, what Manning Place shows is what a modern almshouse looks like, complete with aids and adaptations to assist residents as they grow older.
Refreshments were served courtesy of Debbie, Jo and Alison, and a pleasant time was had by all those who attended.