The Richmond Charities Healthwatch Talk
Published on:
Written by:

Debbie Flaherty
Jessica Beeson from Healthwatch Richmond came along to the Garden Room to give a talk and to ask residents how they felt about NHS services. She wanted to ask residents what they liked about the services they have received and what services could be improved. A few residents attended and it gave them an opportunity to feedback experiences they have had and to give suggestions for improved services. It was very useful for both the residents and Jessica. If any residents are interested in any further information on this local Healthwatch service, please ask your Scheme Manager.
The Richmond Charities Quiz Night
Published on:
Written by:

Debbie Flaherty
Our residents Steve and Eve held their biannual Quiz Night in the Chapel on 14 November. This is a very popular event over 50 of our residents braved the cold and rain to attend. There was laughter, merriment and some tricky questions to get everyone thinking and some complicated brain teasers. A great time was had by all. We are all looking forward to the next one with eager anticipation.
The DESMOND Talk
Published on:
Written by:

Jo Davison
On Wednesday 6th November Nicola Dolby, Diabetes Specialist Nurse from Teddington Memorial Hospital came to give residents a talk on Diabetes and Healthy eating. DESMOND stands for 'Diabetes Education and Self-Management for Ongoing and Newly Diagnosed'. Nicola talked through how the body works in relation to glucose and insulin. Residents were shown different foods and were asked to say how many sugar cubes they thought each food contained. The results were very surprising, especially for foods such as bread and potatoes as they contain a large amount of sugar. Nicola talked to residents about the importance of activity and exercise and how this can help the cells absorb the glucose, which is a good thing. Everyone enjoyed the talk and left feeling more confident about food choices and how the body benefits from regular activity.
If you would like to know more about diabetes or the Desmond Programme, their website contains a lot of useful resources.
Friends & Neighbours Macmillan Cancer Support Coffee Morning
Published on:
Written by:

Leslie Cook
You can tell when autumn has arrived, apart from leaves beginning to fall, when this charity event appears again on our calendar. Organised as usual by Friends & Neighbours, Pat Platt and her trusty team occupied Hickey's Chapel to set up proceedings for 27th September
All thanks are due to the volunteers who manned (and womanned?) the stalls offering refreshments, lottery, tombola, home baking, arts and crafts, and other attractions. Amongst the hustle and bustle Nancy Baldwin, Mayor of Richmond and her Deputy James Chard enthusiastically joined in what was, in effect a party.
It is very gratifying to report that the sum of £1,025 was raised. This reflects the generosity of all residents and visitors who contributed so handsomely and to whom all thanks are due.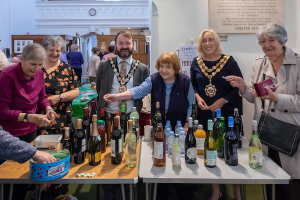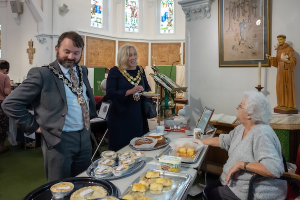 The Richmond Charities' afternoon tea at Queen Elizabeth's Almshouses
Published on:
Written by:

Linda Prendergast
Jill Davidson, the newest resident of Queen Elizabeth's Almshouses, hosted a wonderful afternoon tea party for the residents of Queen Elizabeth's and Bishop Duppa's Almshouses on Tuesday 20th August. It was a gloriously sunny day so Jill decided the garden would be the perfect place for everyone to enjoy a cup of tea and a slice of delicious carrot cake made by Stuart. The flower covered pergola and parasol gave some much needed shade for those who didn't want to sit in full sun. Jill and Nicola, Jill's niece, were the perfect hosts and everyone who attended agreed that it was certainly a most enjoyable afternoon spent in the company of fellow residents.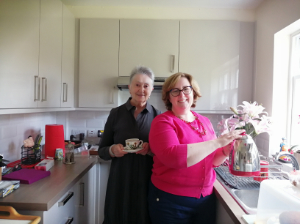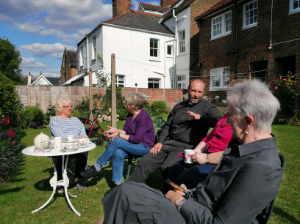 The Richmond Charities' summer garden party at Hickey's Almshouses
Published on:
Written by:

Gail Sullivan
After days of rain, the sun came out on 20th August for the Hickey's residents' garden party. There was afternoon tea in the marquee and a competition to guess the number of sweets and biscuits in a jar. But best of all was the giant outdoor games on the lawn. There were darts, quoits, buzz bar, hole in one and most popular of all skittles. These all caused healthy competition and great fun between the residents. A lovely day.
The Richmond Charities' 'Good Endings'
Published on:
Written by:

Stuart Lee
Following the success of a trial workshop several years ago, we are repeating and updating the 'Good Endings' session in September. This is a morning of information-sharing and support around preparing a will, how to go about organising Power of Attorney (including so-called 'Living Will' arrangements), organising a funeral pre-payment plan and practical considerations around planning a good funeral. The afternoon will include an opportunity to hear from visitors from Age UK and a local independent funeral director as well as representatives from the Charity.
Although some people might feel awkward tackling these subjects, it is our experience that having things organised in advance provides a significant degree of relief. Prior organisation also makes things so much easier for family and friends at an already difficult time. Perhaps preparing things in advance is one of the last acts of generosity we can do for our loved ones. The previous afternoon was, perhaps surprisingly, full of laughter and wonderful stories, and the event will be enriched with a few delicious homemade cakes. Residents are welcome to bring a family member who might also like to be better informed.
The Richmond Charities' 'Good Endings' event takes place on 24th September, 10am – 1pm in the Chapel at Hickey's Almshouses.
The Richmond Charities' Indian Summer Party at Church Estate Almshouses
Published on:
Written by:

Debbie Flaherty
A wonderful time was had by all at the Indian Summer party that was held at Church Estate. The residents enjoyed authentic Indian Cuisine accompanied by Indian beer and prosecco. A jazz band played in the background and the weather couldn't have been better!
The Richmond Charities' Thanksgiving Service - Sunshine (just) and celebration
Published on:
Written by:

Stuart Lee
The first Sunday of July saw one of our annual celebrations at The Richmond Charities. Each year we gather to remember and give thanks for the founders and benefactors of the Almshouses and Charitable Foundations that now make up The Richmond Charities, and to celebrate our life together today. It was touch and go when Gerry put the gazebos up on a rainy Friday afternoon, but by Sunday the clouds were blowing over and the sun was promising to smile on us. The service included some traditional and contemporary music sung by the choir from St Mary Abbots and poems and readings delivered by residents and trustees. Eve Harbud observed how special it was to have an event that brought so many different people together from across the almshouses. She was left, she said, with a renewed appreciation for the charity and the people she lives amongst. And she did mention that the wine afterwards was rather good, too... Suszie Vignoles thought it was a lovely event, with music and readings working together to give the whole afternoon a true community feel that focussed us all around the theme of friendship. 'Postive! Summer-filled! Uplifting!' Thanks to Debbie and her husband Pete for keeping us well-supplied with drinks and snacks.
To see all available images click an image for the full gallery
The Richmond Charities' Afternoon tea with bubbles in the award-winning garden at Michel's Almshouses
Published on:
Written by:

Linda Prendergast
The residents of Michel's, Bishop Duppas, Queen Elizabeth's and Candler's Almshouses all got together on Wednesday 10 July to enjoy afternoon tea and prosecco. The tables were filled with finger sandwiches, savouries and of course cream cakes and mini fruit tartlets all washed down with tea and several bottles of ice-cold prosecco. To quote our Chief Executive, Juliet Ames-Lewis,
"The icing on the cake"
was having Peter Cogavin and his wonderful music which everyone enjoyed.
The Richmond Charities' Ukelele Concert given by The Avenukes
Published on:
Written by:

Lorraine Bradley
On Friday 14th June we were treated to a Ukulele concert in our beautiful chapel at Hickey's Almshouses.
The performers "The Avenukes" are a group of players from The Avenue Club (a local social club) based in Kew.
The performers turned up brightly dressed and had a variety of assorted coloured Ukuleles and played all the old popular songs so the residents could sing along.
It was a fun and very enjoyable afternoon and after the show light refreshments were served.
We would gladly invite them back as everyone who attended really enjoyed the performance and a few went off humming some of the tunes!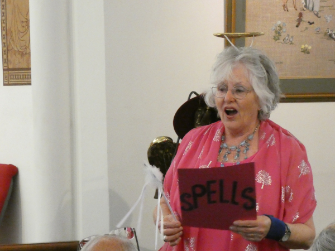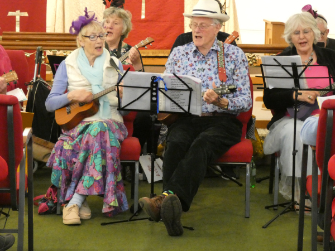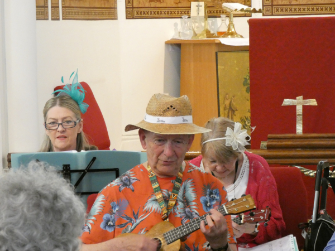 The Richmond Charities' Residents' Day Trip to Southend-on-Sea
Published on:
Written by:

Jo Davison
On 12 June residents of The Richmond Charities went on the annual day trip to Southend-on-Sea. Despite the rain everyone really enjoyed themselves. Many residents headed straight for the fish and chips when we arrived! Residents also enjoyed the train ride along the pier. There were lots of good shops for people to look around and time for ice-creams before heading home.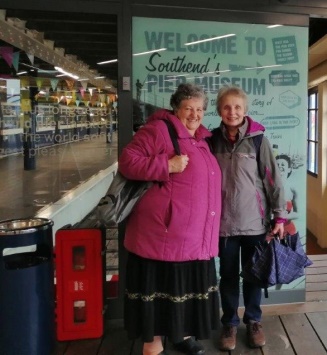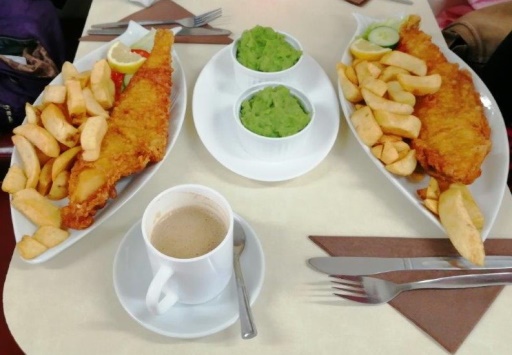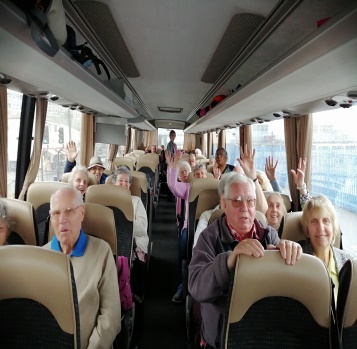 The Richmond Charities' Residents' visit and lunch at Lynde House
Published on:
Written by:

Debbie Flaherty
Lynde House Care Home in Twickenham kindly invited 20 residents along for lunch on 24th April. We were greeted with a glass of sherry followed by a three course lunch with wine and then coffee and mints to end. Everyone thoroughly enjoyed themselves. Alison McIntosh, the manager, and all her team including the chef made us all feel very welcome and following lunch we were free to wander around the beautiful gardens. Alison has invited residents to join them any Wednesday for a complimentary lunch. If you would like to take them up on that generous offer please call Lynde House on 0208 892 4772 giving them a few days' notice so they know to expect you.
To see all available images click an image for the full gallery
The Richmond Charities' Shakespeare's Postbag
Published on:
Written by:

Linda Prendergast
In 'Shakespeare's Postbag' a delightful and professional ensemble piece was performed by Richard Howard (Candler Almshouses) and three fellow thespians. Ancient Rome, medieval Verona, mystical Illyria and the bleak Cambridgeshire castle of a dying and much wronged queen were amongst places visited to witness the effect of such missives. The tragedies, the comedies and the histories were included in the one-hour performance. Everyone enjoyed a glass or two of wine and some nibbles afterwards.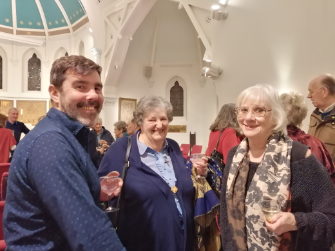 The Richmond Charities' Shrove Tuesday Pancake morning
Published on:
Written by:

Jo Davison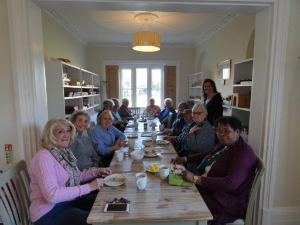 Residents who attended the weekly drop in on Shrove Tuesday enjoyed pancakes. The residents were given a variety of fillings to choose from which included strawberries, bananas, chocolate, maple syrup and of course the traditional lemon and sugar, all of which went down a treat!
The Richmond Charities' Shakespeare's Postbag
Published on:
Written by:

Richard Howard
William Shakespeare comes to the Chapel of St. Francis on Wednesday 27 March at 6pm. We present: SHAKESPEARE'S POSTBAG.
An hour of entertainment followed by drinks. SHAKESPEARE'S POSTBAG, a selection of momentous letters sent and received by Shakespeare's immortal characters, was first performed at the Henley Literary Festival in 2016, the 400th anniversary of Shakespeare's death. It was seen again last year at the Garrick Club in London. The cast includes Jeremy Child (Judge John Deed, The Madness of George III), Richard Howard (Shakespeare in Love, Jane Eyre), Sally Nesbitt (RSC, The Avengers), Emily Raymond (RSC, Pop-up Shakespeare 2018), Tam Williams (RSC, The Lottery of Love at the Orange Tree, Richmond).
Residents' Christmas Lunch
Published on:
Written by:

Juliet Ames-Lewis
On 14 December 2018 The Richmond Charities hosted lunch for 120 residents, trustees and staff at the Richmond Hill Hotel. A fabulous time was had by all, with fantastic food, service and a wonderful atmosphere. Everyone enjoyed the festive quiz, raffle and excellent cracker jokes!