The Richmond Charities' Residents' Day Trip to Southend-on-Sea
Published on:
Written by:

Jo Davison
On 12 June residents of The Richmond Charities went on the annual day trip to Southend-on-Sea. Despite the rain everyone really enjoyed themselves. Many residents headed straight for the fish and chips when we arrived! Residents also enjoyed the train ride along the pier. There were lots of good shops for people to look around and time for ice-creams before heading home.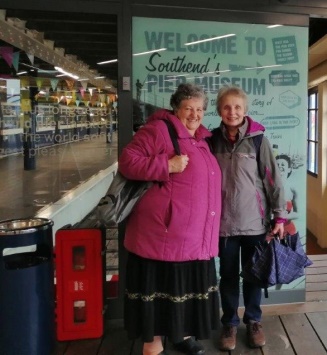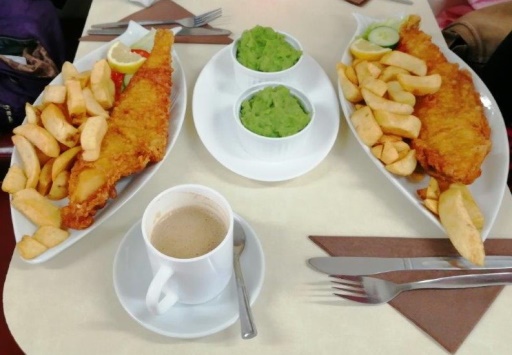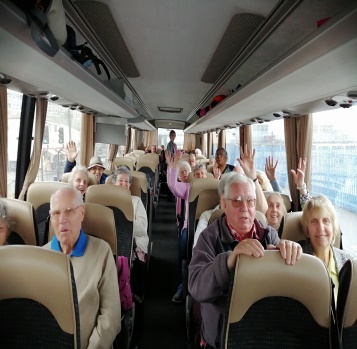 The Richmond Charities' Residents' visit and lunch at Lynde House
Published on:
Written by:

Debbie Flaherty
Lynde House Care Home in Twickenham kindly invited 20 residents along for lunch on 24th April. We were greeted with a glass of sherry followed by a three course lunch with wine and then coffee and mints to end. Everyone thoroughly enjoyed themselves. Alison McIntosh, the manager, and all her team including the chef made us all feel very welcome and following lunch we were free to wander around the beautiful gardens. Alison has invited residents to join them any Wednesday for a complimentary lunch. If you would like to take them up on that generous offer please call Lynde House on 0208 892 4772 giving them a few days' notice so they know to expect you.
To see all available images click an image for the full gallery
The Richmond Charities' Shakespeare's Postbag
Published on:
Written by:

Linda Prendergast
In 'Shakespeare's Postbag' a delightful and professional ensemble piece was performed by Richard Howard (Candler Almshouses) and three fellow thespians. Ancient Rome, medieval Verona, mystical Illyria and the bleak Cambridgeshire castle of a dying and much wronged queen were amongst places visited to witness the effect of such missives. The tragedies, the comedies and the histories were included in the one-hour performance. Everyone enjoyed a glass or two of wine and some nibbles afterwards.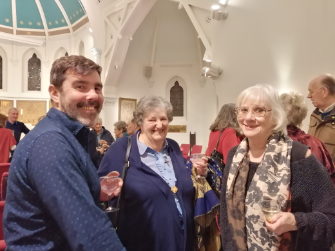 The Richmond Charities' Shrove Tuesday Pancake morning
Published on:
Written by:

Jo Davison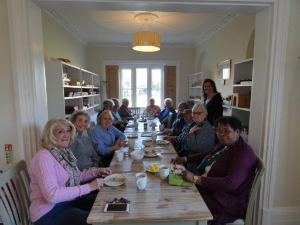 Residents who attended the weekly drop in on Shrove Tuesday enjoyed pancakes. The residents were given a variety of fillings to choose from which included strawberries, bananas, chocolate, maple syrup and of course the traditional lemon and sugar, all of which went down a treat!
The Richmond Charities' Shakespeare's Postbag
Published on:
Written by:

Richard Howard
William Shakespeare comes to the Chapel of St. Francis on Wednesday 27 March at 6pm. We present: SHAKESPEARE'S POSTBAG.
An hour of entertainment followed by drinks. SHAKESPEARE'S POSTBAG, a selection of momentous letters sent and received by Shakespeare's immortal characters, was first performed at the Henley Literary Festival in 2016, the 400th anniversary of Shakespeare's death. It was seen again last year at the Garrick Club in London. The cast includes Jeremy Child (Judge John Deed, The Madness of George III), Richard Howard (Shakespeare in Love, Jane Eyre), Sally Nesbitt (RSC, The Avengers), Emily Raymond (RSC, Pop-up Shakespeare 2018), Tam Williams (RSC, The Lottery of Love at the Orange Tree, Richmond).
Residents' Christmas Lunch
Published on:
Written by:

Juliet Ames-Lewis
On 14 December 2018 The Richmond Charities hosted lunch for 120 residents, trustees and staff at the Richmond Hill Hotel. A fabulous time was had by all, with fantastic food, service and a wonderful atmosphere. Everyone enjoyed the festive quiz, raffle and excellent cracker jokes!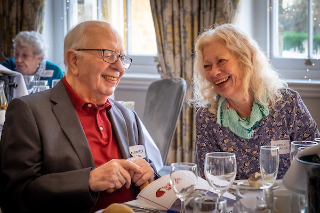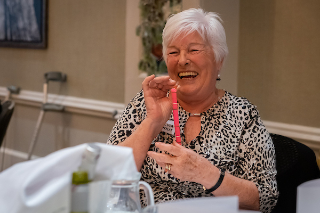 O come all ye faithful – Carol Singing at Michel's Almshouses, The Richmond Charities
Published on:
Written by:

Linda Prendergast and Jo Davison
Almshouse residents, staff, trustees and visitors enjoyed an afternoon of festive music, mulled wine and mince pies on Sunday 9 December at Michel's Almshouses. The choir from St Mary Magdalene's Church, Richmond came to the almshouses to sing carols around the Christmas tree with audience participation! A great time was had by all 60 people attending, which included residents from many of The Richmond Charities' other almshouse estates across Richmond and Twickenham.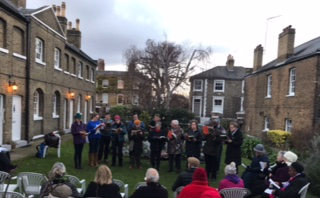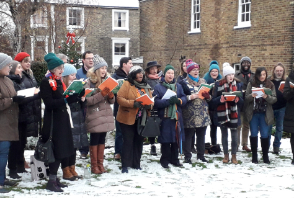 Advent Carols - Sunday, 2nd December, 5pm (Chapel of St Francis)
Published on:
Written by:

Stuart Lee
Join us in the Chapel of St Francis, Hickey's Almshouses on Advent Sunday for Evening Prayer with Advent Carols, music and a seasonal reflection as we begin to prepare for the Mystery of Christmas.
Services on Remembrance Sunday
Published on:
Written by:

Stuart Lee
On Remembrance Sunday, 11 November, we held two moving services in our Chapel at Hickey's Almshouses. The morning service marked the 100th anniversary since the end of World War I and the evening's memorial service was a chance to remember and give thanks for those in our community who have recently died.
Official opening of Manning Place Almshouses
Published on:
Written by:

Valerie Clarke
The official opening of Manning Place took place on 13th September 2018. The weather was very kind to us and the opening was very well attended. The Mayor of Richmond Cllr Ben Khosa performed the "cutting of the ribbon" and welcomed the 12 new residents. The Mayor made a speech and talked about the charity's long history of providing almshouse accommodation and praised the charity for continuing to look for ways in which it can expand and house more residents.
Some residents opened up their new almshouses so that guests could look around and everyone was very impressed with the quality of the new almshouses and the refurbishment that has been undertaken. As the Mayor said, although most almshouses are traditional cottages, what Manning Place shows is what a modern almshouse looks like, complete with aids and adaptations to assist residents as they grow older.
Refreshments were served courtesy of Debbie, Jo and Alison, and a pleasant time was had by all those who attended.