The Richmond Charities Meditation and Mindfulness
Published on:
Written by:

Sturart Lee
Finding the still centre at the almshouses
Meditation and mindfulness practices can often be shrouded in mystery. Alternatively, the promised peace or enlightenment is often delayed until after a long, complicated and often expensive course. In truth, the experience of stillness is always available to us through focus and attention. Here at the almshouses we are currently learning and practising a variety of techniques to help us achieve a mindful, meditative state.
The Richmond Charities' 'Out & About with my Freedom Pass' Group
Published on:
Written by:

Michael Hobbs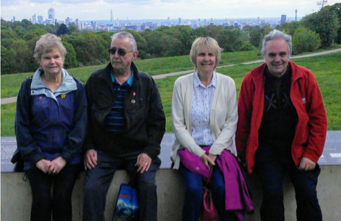 The 'Out & About' Group has enjoyed recent trips, in London, to the Natural History Museum, Kenwood House and Gardens and The Guildhall Yard.
The Richmond Charities' Autobiography Group
Published on:
Written by:

Stuart Lee
'It may be a small life; we may not have done anything particularly great or inspiring, but our memories make us what we are and those who love us are interested in that.'


One of the great gifts of age and maturity is that it can give us a new, and sometimes surprising, perspective on our own lives. Like fine wines, our memories can change and deepen as time passes and we feel differently about things at different points in our lives. Over the past several years we have run an Autobiography Group at the almshouses. We use a series of guided exercises that can help anyone organise and write down their experiences and share them in a group with others on the same journey. The method is particularly helpful for those who like the idea of writing their own story for family or friends (or simply for themselves) but don't know where to begin.
By the end of the course of 10 weeks, participants will have a 'collage' of their life experiences which, if they want to, they can further work on to turn into a more polished autobiography. However, many feel that going through this process together is almost more important than worrying about any finished product. Residents have found the experience helps them to celebrate the great joys of their lives and come to a new relationship with more troubling experiences.
Our new autobiography group is now in full swing and it feels like a warm and supportive environment in which to do this work together. Tears and laughter are regularly found hand in hand.
As a previous participant wrote, 'Realistically I know that never again am I going to climb a mountain in the Lake District or dance the night away, but I did it once and have the memories - and I can do it in my head whenever I want to!'
The Richmond Charities' Bridge Club
Published on:
Written by:

Gail Sullivan
The Bridge Club meets twice a week in our communal room and is open to everyone from beginners to experts. The club is run by residents for residents and is informal and fun with the emphasis on socializing – plenty of tea and biscuits! New members are very welcome.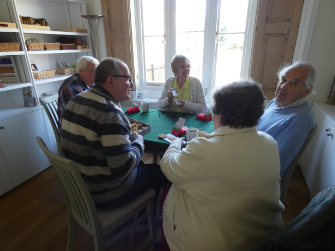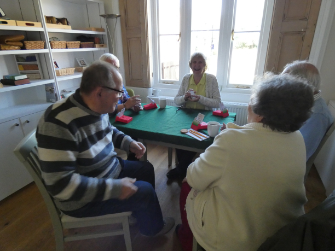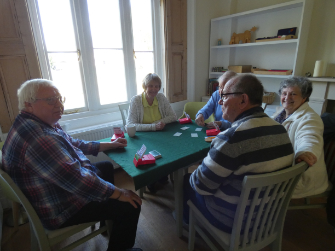 The Richmond Charities' Bingo afternoons
Published on:
Written by:

Lorraine Bradley
Our monthly Bingo sessions are held in our beautiful Chapel in the grounds of Hickey's Almshouses. In 2019 Bingo takes place on Wednesdays on the following dates:
3rd April

1st May

12th June

3rd July

14th August

11th September

2nd October

13th November

11th December
It only costs £1.00 to join in and this includes tea & biscuits as well as prizes and jackpot! This is a very sociable group and is run by one of our almshouse residents. Do come along and join in!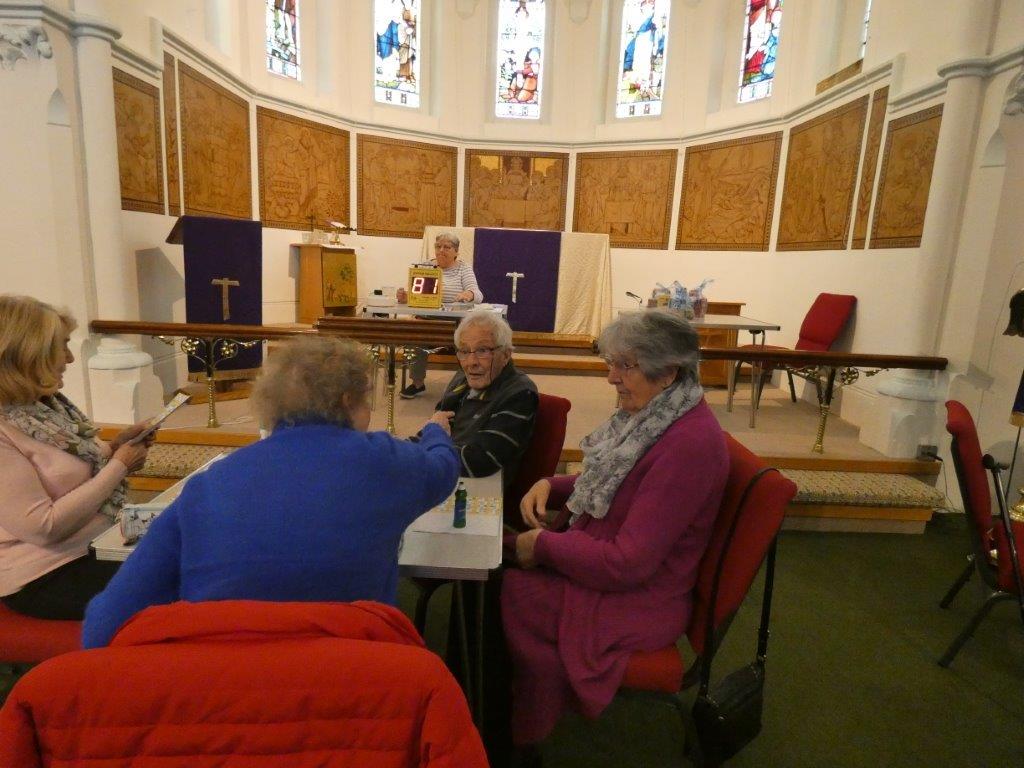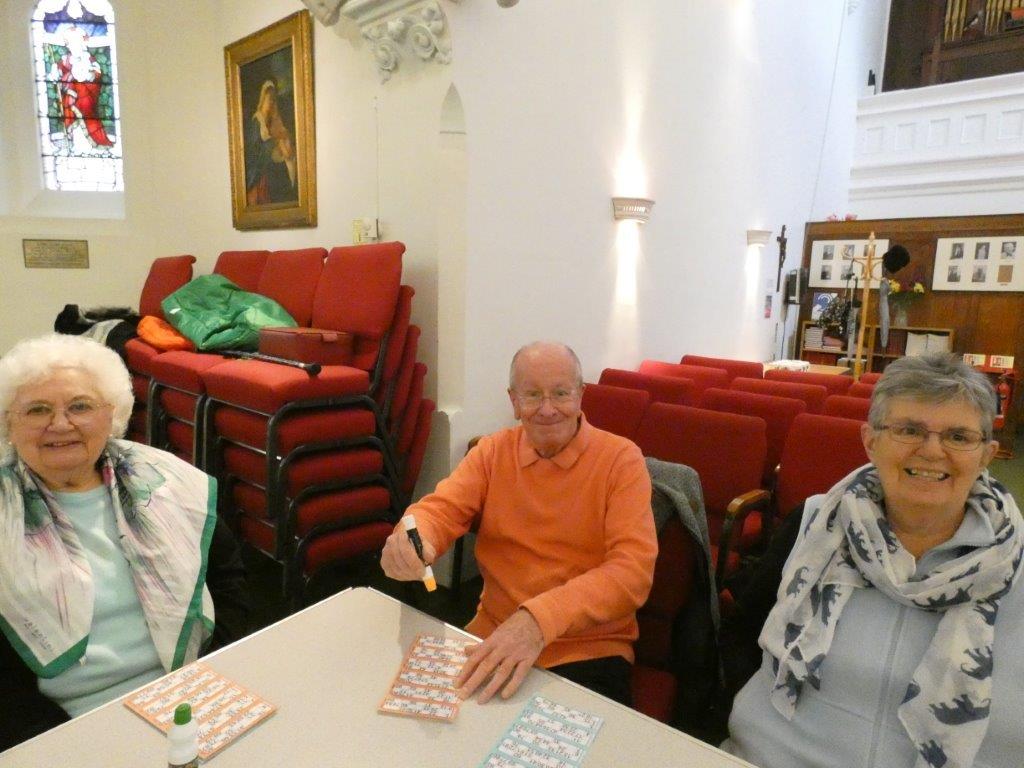 The Richmond Charities' Craft Group
Published on:
Written by:

Debbie Flaherty
The Richmond Charities craft club have worked hard for the last three months having such fun creating the wonderful yarn bomb that is now on display at Hickey's Almshouses. It will hang for one month and will brighten the trees before they bloom again. It will hopefully be a talking point and bring joy to the wintery month ahead. A huge THANK YOU to all those in the craft club for all the hard work, creativity and love that they have put into this lovely piece of art. The craft club would love to welcome new members so if you are free on a Wednesday morning at 10am please pop along.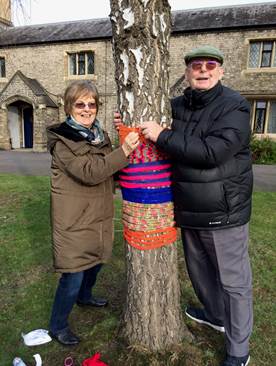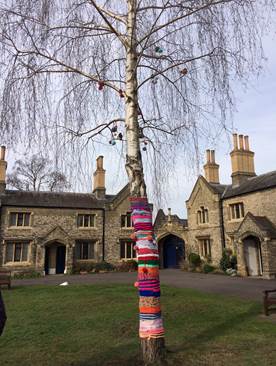 The Richmond Charities' Stories for the Soul
Published on:
Written by:

Stuart Lee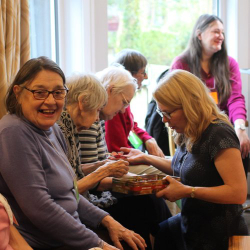 Stories for the Soul is an opportunity to nurture our spiritual well-being. Each week we create a unique community around the table where we can be ourselves and our story is valued. Our feelings, our search for meaning and purpose, our sense of awe and wonder, our creativity, beliefs and relationships are welcomed, affirmed and cherished. We hope that this special atmosphere will be carried into the wider community of The Richmond Charities.
Beginning on 13th March at 10am and, weekly throughout the period of Lent 2019, we will be sharing some Stories for the Soul in The Green Room. Each session follows a simple and familiar pattern. We meet informally and ensure everyone is welcomed before sharing a story from the Jewish or Christian scriptures using some carefully made and beautiful materials.
There is then an opportunity to share any thoughts or questions that the story has inspired. This is a time for listening to one another - there are no 'right' answers and each of us is invited to find our own meaning in the story. A period of free response follows where we can pursue our own wondering. Some people engage in creative work with the materials provided, others may choose to work with the materials from the story itself or simply enjoy some quiet time. Finally, we share a simple 'feast' together and enjoy one another's company.
In this course of stories we will be especially focussing on the Parables of Jesus. Often taught as simple moral messages, the Parables can be far more unsettling. They challenge us to imagine a very different world, turned upside down and inside out.
The Richmond Charities' Residents' Drop-in mornings
Published on:
Written by:

Gail Sullivan
Residents' Drop-in Mornings
We hold this event every Tuesday in our communal space called The Green Room. It's an informal morning where residents can socialise with a cuppa and biscuits. There are plenty of board games, puzzles and cards for spirited competition! The Green Room has a fully equipped kitchen so can be used for a wide variety of social events.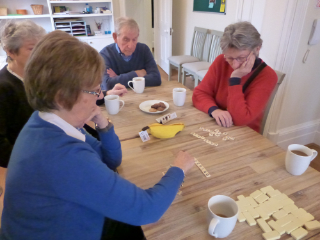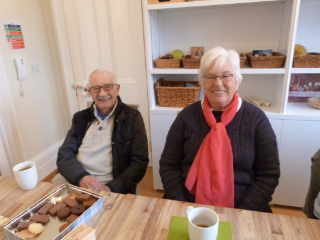 The Richmond Charities' Film Club
Published on:
Written by:

Linda Prendergast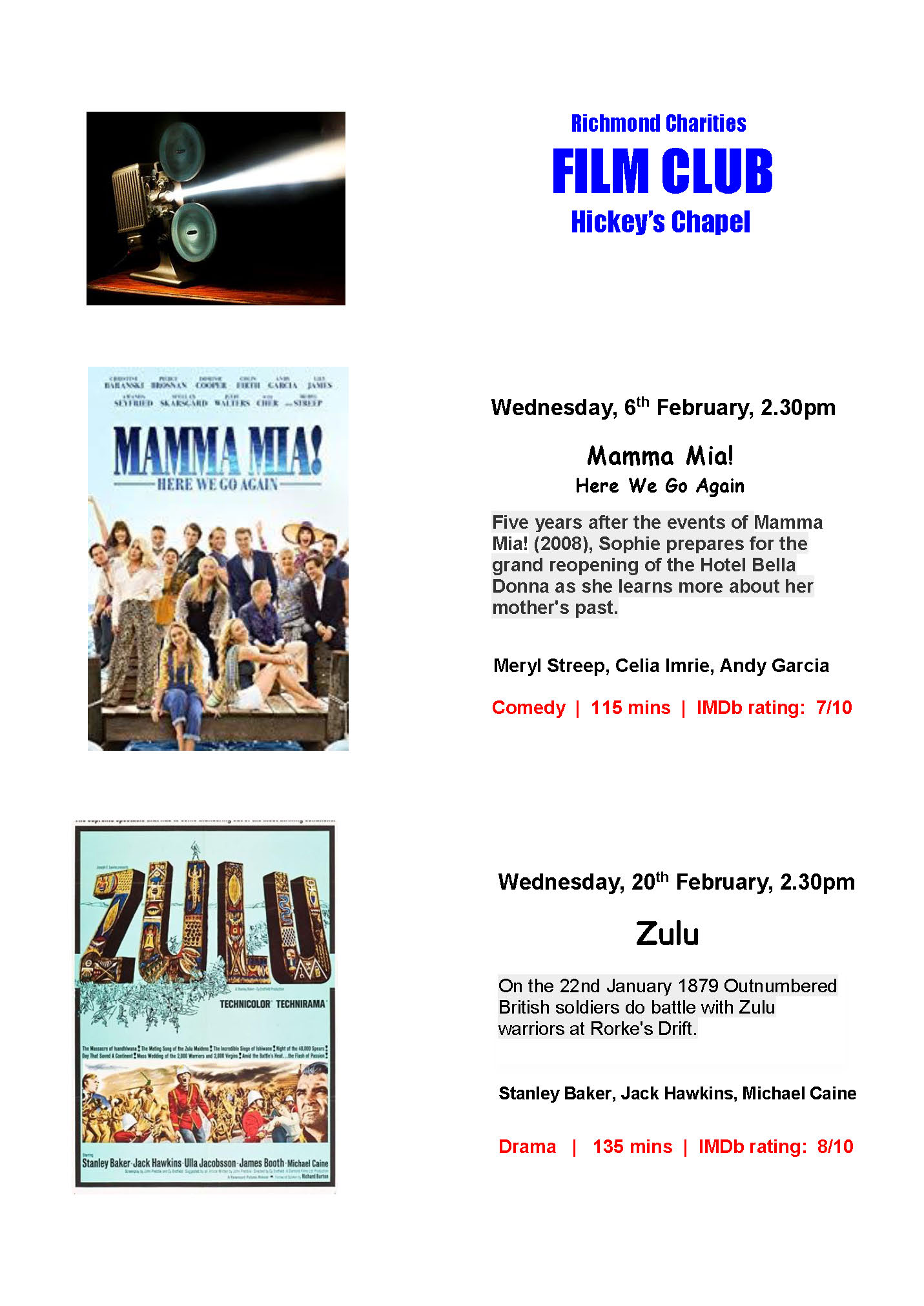 The film club was set up a few years ago by the residents of The Richmond Charities. Residents meet in the Chapel twice a month to watch a film that has been chosen by the committee from the list of DVDs that are available to them.
This month residents can enjoy "Mamma Mia! Here we go again", a comedy starring Meryl Streep, and "Zulu", a drama based on the battle at Rorke's Drift. Once again it's a chance for residents to get together and enjoy each other's company with a nice cup of tea during the interval.
Download the revised February 2019 Film Leaflet
The Richmond Charities' Strength and Balance classes
Published on:
Written by:

Lorraine Bradley
The Richmond Charities started these specialised classes in May 2017 in response to some residents who wished to attend a gentle exercise class which would offer strengthening of muscles to help with balance and mobility. This in turn helps build confidence, especially if someone has experienced a fall in the past. Gill Williams, the teacher who runs these sessions, is highly qualified in this field as she has worked with the Richmond Falls Prevention team for a number of years. The residents that take part also have fun and it helps with socialising which helps combat isolation.
The classes run on Fridays from 2pm - 3pm in the Chapel at Hickey's Almshouses. All are welcome!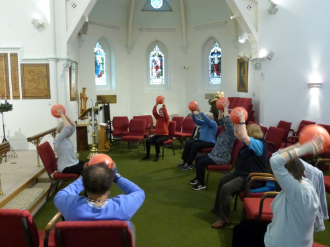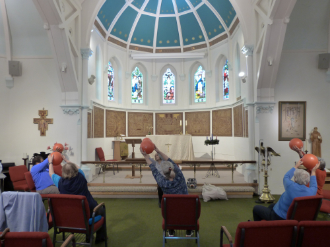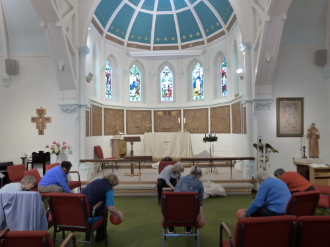 The Richmond Charities' Almshouse Book Club
Published on:
Written by:

Jo Davison
The Almshouse book club was set up following suggestions from residents. Members meet once a month where they discuss and compile a list of possible books that they would like to read the following month. The group also have a discussion about the book they have read in the previous month over a cup of tea. One of the books that was read recently was 'Still Alice' by Lisa Genova. This book created a lively review meeting where most people said they enjoyed the book although they said it was a worrying and close to home subject, as it was about Alzheimer's disease. One member found it badly written and a 'band-wagon' book but they all had plenty to say. Members scored the book between 0-7 out of 10.
Invisible Man by Ralph Ellison is the book that is currently being read by the Almshouse book club. This is Ralph Ellison's first novel. It was published in 1952 when American society was on the cusp of immense change. Invisible Man is the story of a young black man from the South who does not fully understand racism in the world. He encounters many people and situations that slowly force him to face the truth about racism and his own identity.
The book club is open to all Almshouse residents, even those who are unable to attend the meetings. These residents can have a book delivered to them so they are still able to actively participate as they can write a review of the book and send it to the meeting for the other members to read and discuss.