Chaplaincy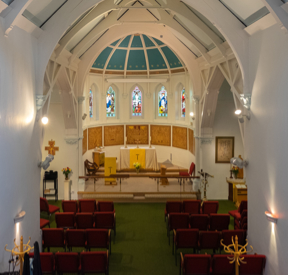 The maintenance of the services of a Chaplain at the Richmond Charities reflects its Christian origins and a commitment to the wellbeing of the whole person, their physical, mental, emotional, social and spiritual wellbeing. The Chaplain is available to all residents for confidential counsel or advice, or in times of need or sickness. At times we all have difficulties and anxieties and it can often be helpful to talk them over with another person. The Chaplain is happy to listen to whatever may be concerning you, be they 'religious' matters or not. Whatever is discussed with the Chaplain will always be treated as confidential.
The Chaplain takes services in Hickey's Chapel in the Anglican tradition and can take home communion to the sick, or those unable to get out of the house. There are also a variety of study groups and opportunities to nurture our wellbeing in later years.
The Chaplaincy respects the fact that residents will come from a variety of backgrounds and faith traditions, or may not subscribe to a formal religious tradition at all, but is committed to the possibility of spiritual growth and development for all who seek it.
Please let your Scheme Manager know if you wish to see the Chaplain or contact directly by telephone on
07780 997528.
Join Us
At present, a Sunday Eucharist with a sermon and, often, hymns takes place at 10.30am in the Chapel at Hickey's Almshouses on Sheen Road. Evening services will resume in October.
Below are some videos which you may find helpful. Please use the password that was issued to you in a letter from the Chaplain, or call the number above to be reminded of it.