The Richmond Charities Staff and Trustees Lunch
Published on:
Written by:

Linda Prendergast
Juliet Ames-Lewis and the Trustees organised a wonderful celebratory lunch for all the staff which was held in the Garden Room at Church Estate on the 3rd March. It was their way of saying farewell to Gail Sullivan who had been Scheme Manager at Hickey's Almshouses for 10 years. She was heading off to an exciting new life in her homeland New Zealand. It was also to say thank you to Gerry Wilson and Linda Prendergast for their long service with The Richmond Charities. Gerry has been (and continues to be) the caretaker for all the Almshouse estates for 25 years and Linda a Scheme Manager in the Vineyard for 20 years.
Everyone tucked into a feast of the most delicious food washed down with a glass or two of wine before Gail, Gerry, Lorraine (who is Scheme Manager at Church Estate) and Linda were presented with a specially commissioned painting of the estates at which they have worked during their time with the charity.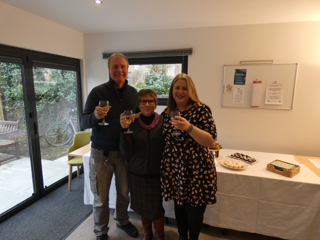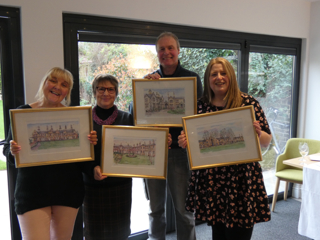 The Richmond Charities Healthwatch Talk
Published on:
Written by:

Debbie Flaherty
Jessica Beeson from Healthwatch Richmond came along to the Garden Room to give a talk and to ask residents how they felt about NHS services. She wanted to ask residents what they liked about the services they have received and what services could be improved. A few residents attended and it gave them an opportunity to feedback experiences they have had and to give suggestions for improved services. It was very useful for both the residents and Jessica. If any residents are interested in any further information on this local Healthwatch service, please ask your Scheme Manager.
The Richmond Charities Quiz Night
Published on:
Written by:

Debbie Flaherty
Our residents Steve and Eve held their biannual Quiz Night in the Chapel on 14 November. This is a very popular event over 50 of our residents braved the cold and rain to attend. There was laughter, merriment and some tricky questions to get everyone thinking and some complicated brain teasers. A great time was had by all. We are all looking forward to the next one with eager anticipation.
The DESMOND Talk
Published on:
Written by:

Jo Davison
On Wednesday 6th November Nicola Dolby, Diabetes Specialist Nurse from Teddington Memorial Hospital came to give residents a talk on Diabetes and Healthy eating. DESMOND stands for 'Diabetes Education and Self-Management for Ongoing and Newly Diagnosed'. Nicola talked through how the body works in relation to glucose and insulin. Residents were shown different foods and were asked to say how many sugar cubes they thought each food contained. The results were very surprising, especially for foods such as bread and potatoes as they contain a large amount of sugar. Nicola talked to residents about the importance of activity and exercise and how this can help the cells absorb the glucose, which is a good thing. Everyone enjoyed the talk and left feeling more confident about food choices and how the body benefits from regular activity.
If you would like to know more about diabetes or the Desmond Programme, their website contains a lot of useful resources.
Friends & Neighbours Macmillan Cancer Support Coffee Morning
Published on:
Written by:

Leslie Cook
You can tell when autumn has arrived, apart from leaves beginning to fall, when this charity event appears again on our calendar. Organised as usual by Friends & Neighbours, Pat Platt and her trusty team occupied Hickey's Chapel to set up proceedings for 27th September
All thanks are due to the volunteers who manned (and womanned?) the stalls offering refreshments, lottery, tombola, home baking, arts and crafts, and other attractions. Amongst the hustle and bustle Nancy Baldwin, Mayor of Richmond and her Deputy James Chard enthusiastically joined in what was, in effect a party.
It is very gratifying to report that the sum of £1,025 was raised. This reflects the generosity of all residents and visitors who contributed so handsomely and to whom all thanks are due.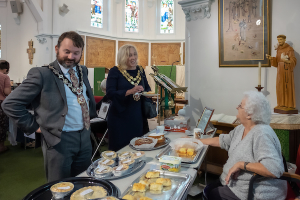 The Richmond Charities' afternoon tea at Queen Elizabeth's Almshouses
Published on:
Written by:

Linda Prendergast
Jill Davidson, the newest resident of Queen Elizabeth's Almshouses, hosted a wonderful afternoon tea party for the residents of Queen Elizabeth's and Bishop Duppa's Almshouses on Tuesday 20th August. It was a gloriously sunny day so Jill decided the garden would be the perfect place for everyone to enjoy a cup of tea and a slice of delicious carrot cake made by Stuart. The flower covered pergola and parasol gave some much needed shade for those who didn't want to sit in full sun. Jill and Nicola, Jill's niece, were the perfect hosts and everyone who attended agreed that it was certainly a most enjoyable afternoon spent in the company of fellow residents.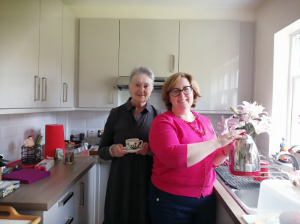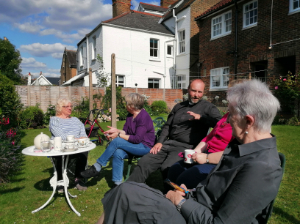 The Richmond Charities' summer garden party at Hickey's Almshouses
Published on:
Written by:

Gail Sullivan
After days of rain, the sun came out on 20th August for the Hickey's residents' garden party. There was afternoon tea in the marquee and a competition to guess the number of sweets and biscuits in a jar. But best of all was the giant outdoor games on the lawn. There were darts, quoits, buzz bar, hole in one and most popular of all skittles. These all caused healthy competition and great fun between the residents. A lovely day.
The Richmond Charities' 'Good Endings'
Published on:
Written by:

Stuart Lee
Following the success of a trial workshop several years ago, we are repeating and updating the 'Good Endings' session in September. This is a morning of information-sharing and support around preparing a will, how to go about organising Power of Attorney (including so-called 'Living Will' arrangements), organising a funeral pre-payment plan and practical considerations around planning a good funeral. The afternoon will include an opportunity to hear from visitors from Age UK and a local independent funeral director as well as representatives from the Charity.
Although some people might feel awkward tackling these subjects, it is our experience that having things organised in advance provides a significant degree of relief. Prior organisation also makes things so much easier for family and friends at an already difficult time. Perhaps preparing things in advance is one of the last acts of generosity we can do for our loved ones. The previous afternoon was, perhaps surprisingly, full of laughter and wonderful stories, and the event will be enriched with a few delicious homemade cakes. Residents are welcome to bring a family member who might also like to be better informed.
The Richmond Charities' 'Good Endings' event takes place on 24th September, 10am – 1pm in the Chapel at Hickey's Almshouses.
The Richmond Charities' Indian Summer Party at Church Estate Almshouses
Published on:
Written by:

Debbie Flaherty
A wonderful time was had by all at the Indian Summer party that was held at Church Estate. The residents enjoyed authentic Indian Cuisine accompanied by Indian beer and prosecco. A jazz band played in the background and the weather couldn't have been better!